Choose the type and quality of wine you want to make

4, 5 or 6 week kit
Red, white or blush
Traditional, Reserva, Classic, Terrior, Ultra Terrior, Vinyard Specific, Winery Grape Skins, Fruit Wines, Port, Sherry or Ice Wine (refer to wine menu).

Starting Your Wine

You will mix contents and sprinkle the yeast (takes approx. 5-10 minutes)

Processing the Wine

We will take care of the stabilizing, clarifying and filtering process for you.

Bottling Your Wine

After 4, 5 or 6 weeks you will return with your own bottles or you can purchase new ones from us. Using state of the art equipment, you will fill and cork the bottles with your wine and apply coordinated shrink tops and labels or you can personalize the labels for special occasions. This process takes approx. 30-40 minutes.
All batches produce 30(750ml) bottles of wine, with exception of The Specialty wines which produce 30(375ml) bottles.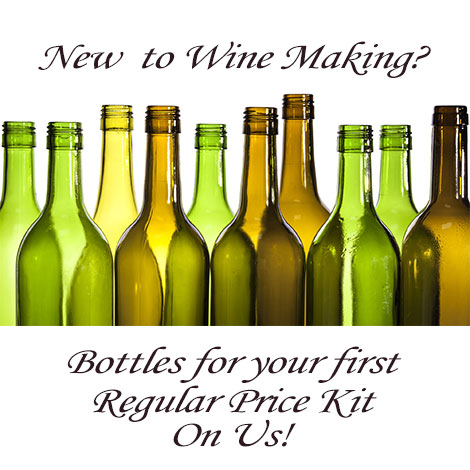 true to country of origin
ageing time approximately 6 – 24 months
shelf life of approximately 24 – 36 months
contains (in order of volume) varietal grape juice, varietal grape concentrate and small amount of water
truly a classic product of varietal ingredients
ageing time approximately 6 – 18 months
shelf life of approximately 24 – 36 months
contains (in order of volume) varietal grape juice, varietal grape concentrate and small amount of water
our blended selection
ageing time approximately 1- 6 months
shelf life of approximately 18 – 24 months
contains (in order of volume) water, grape concentrate and may contain pure grape juice
our most economical product
ageing time approximately 1 – 4 months
to be consumed young
short shelf life of approximately 12 -18 months
contains (in order of volume) water and grape concentrate
a sweet fruit wine
ready to drink at bottling time
shelf life of up to 18 months