Pork chop fans will love this simple yet elegant skillet recipe.
4 bone-in pork rib chops
Salt and pepper
2 tbsp (30 mL) olive oil, divided
1 large red onion, thinly sliced
2 cloves garlic, minced
1/2 tsp (2 mL) dried thyme leaves
1/2 cup (125 mL) light bodied red
wine such as Pinot Noir or Gamay
1/2 cup (125 mL) chicken broth
1 tbsp (15 mL) Worcestershire sauce
Chopped fresh parsley (optional)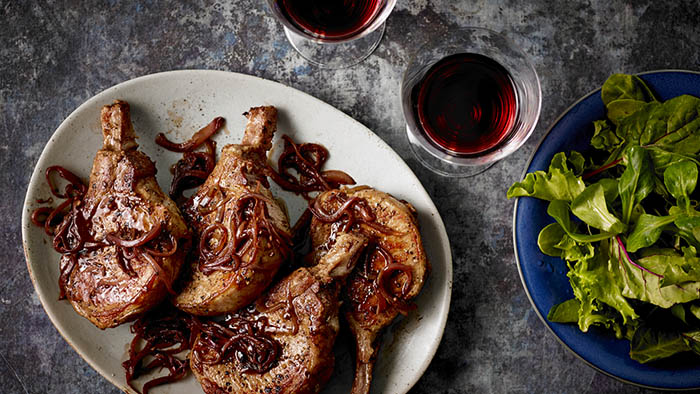 Season pork chops with salt and pepper.
Heat 1 tbsp (15 mL) oil in a heavy or cast iron skillet set over medium-high heat.
Add pork chops and sear for 4 to 5 minutes per side or until well-browned. Transfer to a plate.
Reduce heat to medium. Add remaining oil, onion, garlic and thyme to skillet. Cook, stirring occasionally, for 15 minutes or until onions are well-browned.
Stir in wine, broth and Worcestershire sauce. Bring to a simmer.
Nestle pork chops into skillet. Simmer, partially covered, for 15 minutes or until just a hint of pink remains (or pork is cooked to preferred completion).
Remove pork chops to a platter. Spoon pan sauce over top and sprinkle with parsley (if using).
TIP:
For moist, tender pork, cook to an internal temperature of 150°F (65°C). Serve with mashed potatoes, rice pilaf or buttered noodles and steamed green vegetables.
PAIR WITH WORLD VINEYARD'S CALIFORNIA PINOT  NOIR.
Courtesy of winexpert: Impressive Pairings.